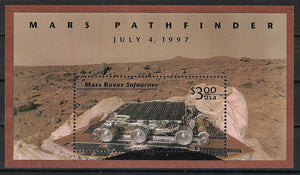 1997 Space Mars Pathfinder $3 Stamp Sheet - MNH, OG - Sc# 3178 - (CW66)
1997 Space Mars Pathfinder $3 Stamp Sheet - MNH, OG - Sc# 3178 - (CW66)
The Mars Pathfinder $3 Priority Mail stamp commemorates the successful landing of the Mars Pathfinder on July 4, 1997. The stamp pictures the first image sent from the Pathfinder, the remote-controlled vehicle, Sojourner, which collected data about the soil and rocks, with the Mars landscape in the background.

The stamp is the largest the U.S. Postal Service has ever made for regular postage. Special "USA" perforations were added to the bottom row. Hidden words were incorporated into the design and are visible with a stamp decoder. They read "USPS" and "MARS PATHFINDER • JULY 4, 1997" in alternating lines.
These are real USPS postage stamps that are accepted by the USA Postal Service as payment for mail posted in the USA however the total rates on the stamps posted must equal or exceed the current appropriate postal mailing rate or extra postage must be paid.
The stamp set shown in the picture is a stock photo and is likely not a picture of the exact stamp set you will receive and it may differ in plate number and/or orientation. However the item you will receive will be similar including having a plate number (if one is present in the photos) and the same number of stamps. Stamps titled as MNH, OG will have no significant creases or unnatural gum disturbances unless otherwise noted.