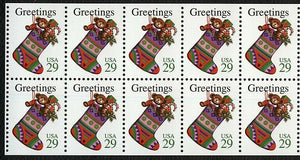 1994 Christmas Greetings Stocking Booklet Pane Of 10 29c Postage Stamps - MNH, OG - Sc# 2872 - CX398a
1994 Christmas Greetings Stocking Booklet Pane Of 10 29c Postage Stamps - MNH, OG - Sc# 2872 - CX398a
This is a set of 10 stamps. * * * Hanging stockings by the fireplace became a custom in the early days of eighteenth-century England. When the English took over the colony of New Amsterdam (which later became New York), the Dutch colonists adopted the custom, since wooden shoes were no longer worn in the new colony. Long, heavy, woolen stockings however, were worn by both boys and girls and so on Saint Nicholas Eve, these were hung upon the mantle instead.
These are real USPS postage stamps that are accepted by the USA Postal Service as payment for mail posted in the USA however the total rates on the stamps posted must equal or exceed the current appropriate postal mailing rate or extra postage must be paid.
The stamp set shown in the picture is a stock photo and is likely not a picture of the exact stamp set you will receive and it may differ in plate number and/or orientation. However the item you will receive will be similar including having a plate number (if one is present in the photos) and the same number of stamps. Stamps titled as MNH, OG will have no significant creases or unnatural gum disturbances unless otherwise noted.