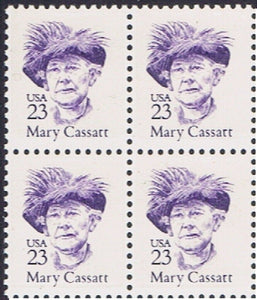 1988 Mary Cassatt, Artist Block Of 4 23c Postage Stamps - MNH, OG - Sc# 2181 - CX818
1988 Mary Cassatt, Artist Block Of 4 23c Postage Stamps - MNH, OG - Sc# 2181 - CX818
Per Wikipedia:
Mary Stevenson Cassatt (/kəˈsæt/; May 22, 1844 - June 14, 1926) was an American painter and printmaker. She was born in Allegheny City, Pennsylvania (now part of Pittsburgh's North Side), but lived much of her adult life in France where she befriended Edgar Degas and exhibited with the Impressionists. Cassatt often created images of the social and private lives of women, with particular emphasis on the intimate bonds between mothers and children.

She was described by Gustave Geffroy as one of "les trois grandes dames" (the three great ladies) of Impressionism alongside Marie Bracquemond and Berthe Morisot. In 1879, Diego Martelli compared her to Degas, as they both sought to depict movement, light, and design in the most modern sense.
These are real USPS postage stamps that are accepted by the USA Postal Service as payment for mail posted in the USA however the total rates on the stamps posted must equal or exceed the current appropriate postal mailing rate or extra postage must be paid.
The stamp set shown in the picture is a stock photo and is likely not a picture of the exact stamp set you will receive and it may differ in plate number and/or orientation. However the item you will receive will be similar including having a plate number (if one is present in the photos) and the same number of stamps. Stamps titled as MNH, OG will have no significant creases or unnatural gum disturbances unless otherwise noted.