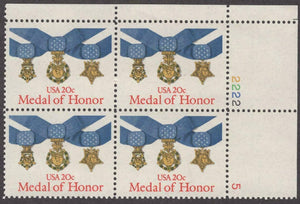 1983 USA Medal Of Honor Plate Block Of 4 20c Postage Stamps - Sc# 2045 - MNH, OG - CW251b
1983 USA Medal Of Honor Plate Block Of 4 20c Postage Stamps - Sc# 2045 - MNH, OG - CW251b
On June 7, 1983 in Washington, DC., the USPS commemorated the Medal of Honor. Established by joint resolution of Congress, 12 July 1862 (amended by Act of 9 July 1918 and Act of 25 July 1963) the Medal of Honor is awarded in the name of Congress to a person who, while a member of the Armed Services, distinguishes himself conspicuously by gallantry and intrepidity at the risk of his life above and beyond the call of duty while engaged in an action against any enemy of The United States; while engaged in military operations involving conflict with an opposing foreign force; or while serving with friendly foreign forces engaged in an armed conflict against an opposing armed force in which The United States is not a belligerent party. The deed performed must have been one of personal bravery or self-sacrifice so conspicuous as to clearly distinguish the individual above his comrades and must have involved risk of life. Incontestable proof of the performance of service is exacted and each recommendation for award of this decoration is considered on the standard of extraordinary merit.
These are real USPS postage stamps that are accepted by the USA Postal Service as payment for mail posted in the USA however the total rates on the stamps posted must equal or exceed the current appropriate postal mailing rate or extra postage must be paid.
The stamp set shown in the picture is a stock photo and is likely not a picture of the exact stamp set you will receive and it may differ in plate number and/or orientation. However the item you will receive will be similar including having a plate number (if one is present in the photos) and the same number of stamps. Stamps titled as MNH, OG will have no significant creases or unnatural gum disturbances unless otherwise noted.