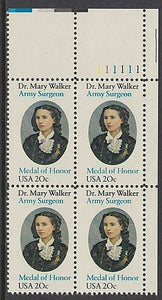 1982 Dr. Mary Walker, Army Surgeon Plate Block of 4 20c Postage Stamps - MNH, OG - Sc# 2013
1982 Dr. Mary Walker, Army Surgeon Plate Block of 4 20c Postage Stamps - MNH, OG - Sc# 2013
Mary Edwards Walker, M.D. (November 26, 1832 - February 21, 1919), commonly referred to as Dr. Mary Walker, was an American abolitionist, prohibitionist, prisoner of war and surgeon. She is the only woman to ever receive the Medal of Honor.

In 1855, she earned her medical degree at Syracuse Medical College in New York, married and started a medical practice. She volunteered with the Union Army at the outbreak of the American Civil War and served as a surgeon at a temporary hospital in Washington, D.C., even though at the time women physicians were considered unfit for the Union Army Examining Board. She was captured by Confederate forces after crossing enemy lines to treat wounded civilians and arrested as a spy. She was sent as a prisoner of war to Richmond, Virginia until released in a prisoner exchange.
These are real USPS postage stamps that are accepted by the USA Postal Service as payment for mail posted in the USA however the total rates on the stamps posted must equal or exceed the current appropriate postal mailing rate or extra postage must be paid.
The stamp set shown in the picture is a stock photo and is likely not a picture of the exact stamp set you will receive and it may differ in plate number and/or orientation. However the item you will receive will be similar including having a plate number (if one is present in the photos) and the same number of stamps. Stamps titled as MNH, OG will have no significant creases or unnatural gum disturbances unless otherwise noted.