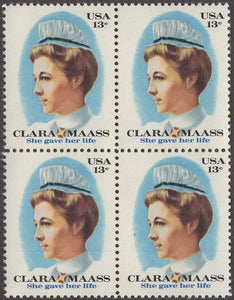 1976 Clara Maass - Malaria - Block Of 4 13c Postage Stamps - Sc# 1699 - MNH, OG - CT43a
Clara Louise Maass (June 28, 1876 - August 24, 1901) was an American nurse who died as a result of volunteering for medical experiments to study yellow fever. In March 1901, Maass volunteered to be bitten by a mosquito that had been allowed to feed on yellow fever patients. By this time, the researchers were certain that mosquitoes were the route of transmission, but lacked the scientific evidence to prove it because some volunteers who were bitten remained healthy. Maass continued to volunteer for experiments. On August 14, 1901, Maass allowed herself to be bitten by infected mosquitoes for the second time. Researchers were hoping to show that her earlier case of yellow fever was sufficient to immunize her against the disease. Unfortunately, this was not the case. Maass once again became ill with yellow fever on August 18 and died on August 24. Her death roused public sentiment and put an end to yellow fever experiments on human beings.
These are real USPS postage stamps that are accepted by the USA Postal Service as payment for mail posted in the USA however the total rates on the stamps posted must equal or exceed the current appropriate postal mailing rate or extra postage must be paid.
The stamp set shown in the picture is a stock photo and is likely not a picture of the exact stamp set you will receive in that it may differ in plate number and/or orientation. However the item you will receive will be similar including having a plate number (if one is present in the photos) and the same number of stamps. Stamps titled as MNH, OG will have no significant creases or unnatural gum disturbances unless otherwise noted.