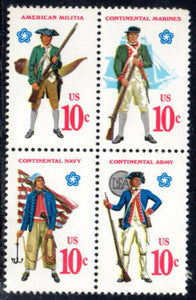 1975 Revolutionary Era Military Uniforms Block of 4 Postage Stamps - MNH, OG - Sc# 1565-1568
In 1975 the USPS issued this Se-tenant depicting the 4 uniforms of the early American military. On June 14, 1775, the Second Continental Congress adopted a motion to create ten companies of infantry that became the Continental Army. On October 13, 1775, the Second Continental Congress authorized the formation of a Navy, which was initially composed of two ships with ten guns each. On November 10, 1775, Congress formed two battalions of Marines to fight at sea and on the adjoining beaches. The Militia, today called the National Guard, was America's original armed force against Great Britain, fighting at Lexington, Concord, and Bunker Hill.
These are real USPS postage stamps that are accepted by the USA Postal Service as payment for mail posted in the USA however the total rates on the stamps posted must equal or exceed the current appropriate postal mailing rate or extra postage must be paid.
The stamp set shown in the picture is a stock photo and is likely not a picture of the exact stamp set you will receive in that it may differ in plate number and/or orientation. However the item you will receive will be similar including having a plate number (if one is present in the photos) and the same number of stamps. Stamps titled as MNH, OG will have no significant creases or unnatural gum disturbances unless otherwise noted.