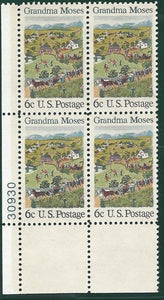 1969 Grandma Moses Plate Block Of 4 6c Postage Stamps - MNH, OG - Sc# 1370 - CX355
These are real USPS postage stamps that are accepted by the Postal Service as payment for mail however the rates on the stamps must equal or exceed the current appropriate postal mailing cost or extra postage must be paid for if using them for mailing.
The stamp set shown in the picture is a stock photo and is likely not a picture of the exact stamp set you will receive in that it may differ in plate number and/or orientation. However the item you will receive will be similar including having a plate number (if one is present in the photos) and the same number of stamps.