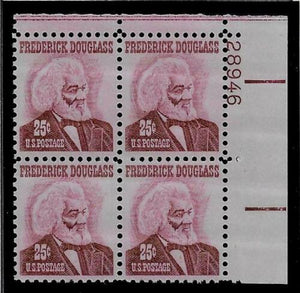 1967 Frederick Douglass Plate Block of 4 25c Postage Stamps - MNH, OG - Sc# 1290
On February 14, 1967 in Washington DC, the USPS honored Frederick Douglass, an American Abolitionist, women's suffragist, editor, orator, author, statesman and reformer. Called "The Sage of Anacostia" and "The Lion of Anacostia", Douglass was on of the most prominent figures in African-American history and US history. Born a slave in 1817, later escaped to the North and became a leader in the anti-slavery campaign. In 1872, Douglass became the very first African-American nominated as a Vice Presidential candidate in the U.S., running on the Equal Rights Party ticket with Victoria Woodhull, the first woman to run for President of the United States. His eloquent arguments in favor of emancipation and women's rights made him the most influential Black spokesman of the nineteenth century. This 25 cent stamp is part of the Prominent American Series.
These are real USPS postage stamps that are accepted by the Postal Service as payment for mail however the rates on the stamps must equal or exceed the current appropriate postal mailing cost or extra postage must be paid for if using them for mailing.
The stamp set shown in the picture is a stock photo and is likely not a picture of the exact stamp set you will receive in that it may differ in plate number and/or orientation. However the item you will receive will be similar including having a plate number (if one is present in the photos) and the same number of stamps.