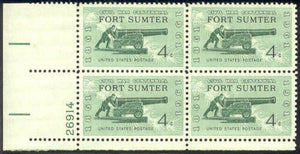 1961-65 - Ft Sumter Civil War Plate Block of 4 4c Postage Stamps - Sc# 1178 - MNH, OG - CX498
1961-65 - Ft Sumter Civil War Plate Block of 4 4c Postage Stamps - Sc# 1178 - MNH, OG - CX498
On April 12, 1961 in Charleston SC; the USPS remembered The Battle of Fort Sumter (April 12-13, 1861) was the bombardment and surrender of Fort Sumter, near Charleston, South Carolina, that started the American Civil War. Following declarations of secession by seven Southern states, South Carolina demanded that the U.S. army abandon Fort Sumter, which was refused. When the ultimatum deadline passed, an artillery barrage ensued, lasting until the fort was surrendered. Once the Confederates had fired, full-scale war quickly followed.
These are real USPS postage stamps that are accepted by the USA Postal Service as payment for mail posted in the USA however the total rates on the stamps posted must equal or exceed the current appropriate postal mailing rate or extra postage must be paid.
The stamp set shown in the picture is a stock photo and is likely not a picture of the exact stamp set you will receive and it may differ in plate number and/or orientation. However the item you will receive will be similar including having a plate number (if one is present in the photos) and the same number of stamps. Stamps titled as MNH, OG will have no significant creases or unnatural gum disturbances unless otherwise noted.