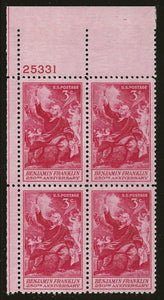 1956 Benjamin Franklin Plate Block of 4 3c Postage Stamps- MNH, OG - Sc# 1073- CX905
1956 Benjamin Franklin Plate Block of 4 3c Postage Stamps- MNH, OG - Sc# 1073- CX905
On January 17 1956 in Philadelphia, PA; the USPS celebrated the 250th anniversary of the birth date of Benjamin Franklin, one of the Founding Fathers of the United States. A noted polymath, Franklin was a leading author and printer, satirist, political theorist, politician, scientist, inventor, civic activist, statesman, soldier, and diplomat. As a scientist, he was a major figure in the American Enlightenment and the history of physics for his discoveries and theories regarding electricity. He invented the lightning rod, bifocals, the Franklin stove, a carriage odometer, and the glass 'armonica' (harmonica). He formed both the first public lending library in America and the first fire department in Pennsylvania. He was an early proponent of colonial unity, and as a political writer and activist, he supported the idea of an American nation. As a diplomat during the American Revolution, he secured the French alliance that helped to make independence of the United States possible. Franklin became a newspaper editor, printer, and merchant in Philadelphia, becoming very wealthy writing and publishing Poor Richard's Almanac and The Pennsylvania Gazette. Franklin was interested in science and technology, and gained international renown for his famous experiments. He played a major role in establishing the University of Pennsylvania and was elected the first president of the American Philosophical Society. Franklin became a national hero in America when he spearheaded the effort to have Parliament repeal the unpopular Stamp Act. As an accomplished diplomat, he was a major figure in the development of positive Franco-American relations. Under the Continental Congress he was the Postmaster General and was also was the President of the Supreme Executive Council of Pennsylvania. Toward the end of his life, he became one of the most prominent abolitionists. Franklin was born on January 17, 1706 and died on April 17, 1790 at the age of 84.
These are real USPS postage stamps that are accepted by the USA Postal Service as payment for mail posted in the USA however the total rates on the stamps posted must equal or exceed the current appropriate postal mailing rate or extra postage must be paid.
The stamp set shown in the picture is a stock photo and is likely not a picture of the exact stamp set you will receive and it may differ in plate number and/or orientation. However the item you will receive will be similar including having a plate number (if one is present in the photos) and the same number of stamps. Stamps titled as MNH, OG will have no significant creases or unnatural gum disturbances unless otherwise noted.