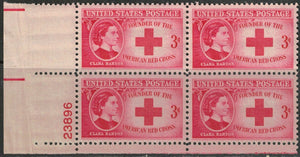 1948 Clara Barton Red Cross Founder Plate Block of 4 3c Stamps - MNH, OG - Sc# 967 - CX933
This is a numbered plate block of 4 stamps as pictured. (plate number may vary from stock picture) ~ On September 7, 1948 in Oxford, MA; the US Post Office department honored Clara Barton the founder of the American Red Cross. During the Civil War, Barton dedicated herself to aiding soldiers on the front, earning her the name of "Angle of the Battlefield". Barton practiced nursing exclusively on battlefields, experiencing the horrors of war on sixteen different battlefields. After the war, she toured Europe sharing her experiences. It was there that she learned about the International Red Cross, and how essential it is provide civilian disaster relief. Upon returning to the United States she began a similar program adopting the framework, later called the American Red Cross.
These are real USPS postage stamps that are accepted by the Postal Service as payment for mail however the rates on the stamps must equal or exceed the current appropriate postal mailing cost or extra postage must be paid for if using them for mailing.
The stamp set shown in the picture is a stock photo and is likely not a picture of the exact stamp set you will receive in that it may differ in plate number and/or orientation. However the item you will receive will be similar including having a plate number (if one is present in the photos) and the same number of stamps.