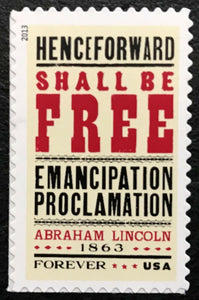 2013 150th Anniversary Emancipation Proclamation Single Forever Postage Stamp - MNH, OG - Sc# 4721
With this 2013 stamp this commemorates the 150th anniversary of the Emancipation Proclamation, which President Abraham Lincoln signed on Jan. 1, 1863. To commemorate this milestone, the Postal Service introduced a limited-edition Forever Stamp at The National Archives in Washington, D.C., which houses the historic document. The Emancipation Proclamation Forever Stamp represents freedom and is the first in a series of three Civil Rights stamps to be released in 2013. The remaining stamps in the series, to be issued later this year, mark enduring moments of courage and equality in the civil rights movement by featuring Rosa Parks and the March on Washington. The Emancipation Proclamation stamp is the latest stamp to be issued by the Postal Service in tribute to civil rights events or leaders. In 2009, the organization released stamps featuring 12 civil rights pioneers including Mary Church Terrell and Mary White Ovington, and every year it commemorates notable leaders and cultural milestones through other stamp collections such as the Black Heritage series and the American Treasures series. Emancipation Proclamation Stamp Design Renowned graphic designer Gail Anderson partnered with art director Antonio Alcalá to design the stamp. It prominently features the phrase, "Henceforward Shall Be Free," which is taken from the historic document. It also notes Abraham Lincoln's name and the year the Emancipation Proclamation was signed. Anderson, known for her term as senior art director at Rolling Stone magazine and design of Broadway play posters, revels in making typography from old forms. To evoke the look of posters from the Civil War era, she tapped Hatch Show Print of Nashville, TN, to produce the Emancipation Proclamation stamp. Established in 1879, Hatch is one of the oldest working letterpress print shops in America and employs the motto, "preservation through production."
These are real USPS postage stamps that are accepted by the USA Postal Service as payment for mail posted in the USA however the total rates on the stamps posted must equal or exceed the current appropriate postal mailing rate or extra postage must be paid.
The stamp set shown in the picture is a stock photo and is likely not a picture of the exact stamp set you will receive in that it may differ in plate number and/or orientation. However the item you will receive will be similar including having a plate number (if one is present in the photos) and the same number of stamps. Stamps titled as MNH, OG will have no significant creases or unnatural gum disturbances unless otherwise noted.