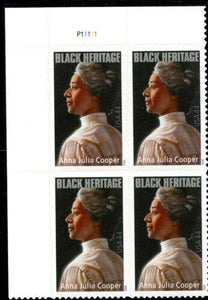 2009 - Anna Julia Cooper Plate Block Of 4 44c Postage Stamps - Sc# - 4408 - MNH, OG - CX851
Anna Julia Haywood Cooper was an American author, educator, sociologist, speaker, Black Liberation activist, and one of the most prominent African-American scholars in United States history.
Born: August 10, 1858, Raleigh, NC
Died: February 27, 1964, Washington, D.C.
Known for: 4th black woman, and 1st woman from the District of Columbia, to receive Ph.D
Education: University of Paris, Columbia University, Oberlin College, Saint Augustine's University, Dunbar High School
Quotes:
The cause of freedom is not the cause of a race or a sect, a party or a class-it is the cause of human kind, the very birthright of humanity.

Bullies are always cowards at heart and may be credited with a pretty safe instinct in scenting their prey.

I constantly felt (as I suppose many an ambitious girl has felt) a thumping from within unanswered by any beckoning from without.
These are real USPS postage stamps that are accepted by the Postal Service as payment for mail however the rates on the stamps must equal or exceed the current appropriate postal mailing cost or extra postage must be paid for if using them for mailing.
The stamp set shown in the picture is a stock photo and is likely not a picture of the exact stamp set you will receive in that it may differ in plate number and/or orientation. However the item you will receive will be similar including having a plate number (if one is present in the photos) and the same number of stamps.