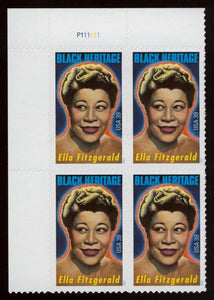 2007 - Ella Fitzgerald Plate Block Of 4 39c Postage Stamps - Sc# - 4120 - MNH, OG - CX849
Ella Jane Fitzgerald was an American jazz singer sometimes referred to as the First Lady of Song, Queen of Jazz, and Lady Ella. She was noted for her purity of tone, impeccable diction, phrasing, intonation, and a "horn-like" improvisational ability, particularly in her scat singing
Born: April 25, 1917, Newport News, VA
Died: June 15, 1996, Beverly Hills, CA
Nicknames: The First Lady of Jazz, The First Lady of Swing, Lady Ella, Queen of Jazz, First Lady of Song
Quotes:
The only thing better than singing is more singing.

It isn't where you came from; it's where you're going that counts.

Just don't give up trying to do what you really want to do. Where there is love and inspiration, I don't think you can go wrong.
These are real USPS postage stamps that are accepted by the USA Postal Service as payment for mail posted in the USA however the total rates on the stamps posted must equal or exceed the current appropriate postal mailing rate or extra postage must be paid.
The stamp set shown in the picture is a stock photo and is likely not a picture of the exact stamp set you will receive in that it may differ in plate number and/or orientation. However the item you will receive will be similar including having a plate number (if one is present in the photos) and the same number of stamps. Stamps titled as MNH, OG will have no significant creases or unnatural gum disturbances unless otherwise noted.