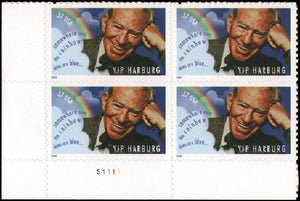 2005 Yip Harburg - Wizard Of Oz Lyrics Plate Block of 4 37c Postage Stamps - Sc# 3905 - DR113a
Lyricist E.Y. "Yip" Harburg (1896-1981) was born in New York City. An energetic youngster, he was nicknamed "Yipsel" – Yiddish for squirrel. In high school and City College, he began a life-long friendship with Ira Gershwin. When the Great Depression cut short Harburg's business career, Gershwin loaned him money and introduced him to composers and writers. Harburg's first hit was a song of social commentary. "Brother, Can You Spare a Dime?" (1932) has been called "the anthem of the Depression." During the following decades, Harburg wrote lyrics for Hollywood musicals, with popular songs like "It's Only a Paper Moon" and "April in Paris." Together with composer Harold Arlen, Harburg wrote songs for the 1939 MGM classic The Wizard of Oz. The film included his Academy Award-winning song "Over the Rainbow," as well as "Ding, Dong! The Witch Is Dead" and "We're Off to See the Wizard." In 1947, Harburg and Burton Lane collaborated on Harburg's masterpiece, Finian's Rainbow, a Broadway musical attacking American greed and racism. The score included "How Are Things In Glocca Morra?" and "Old Devil Moon." Over a long career, Yip Harburg wrote memorable lyrics to more than 500 songs.
These are real USPS postage stamps that are accepted by the USA Postal Service as payment for mail posted in the USA however the total rates on the stamps posted must equal or exceed the current appropriate postal mailing rate or extra postage must be paid.
The stamp set shown in the picture is a stock photo and is likely not a picture of the exact stamp set you will receive in that it may differ in plate number and/or orientation. However the item you will receive will be similar including having a plate number (if one is present in the photos) and the same number of stamps. Stamps titled as MNH, OG will have no significant creases or unnatural gum disturbances unless otherwise noted.