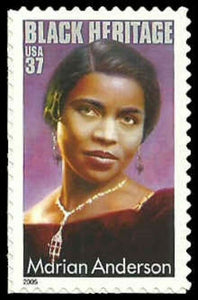 2005 Marian Anderson Single 37c Postage Stamp - Sc# 3896 - MNH, OG - CX736a
Marian Anderson was an American singer of classical music and spirituals. Music critic Alan Blyth said: "Her voice was a rich, vibrant contralto of intrinsic beauty." She performed in concert and recital in major music venues and with famous orchestras throughout the United States and Europe between 1925 and 1965
Born: February 27, 1897, Philadelphia, PA
Died: April 8, 1993, Portland, OR
Spouse: Orpheus H. Fisher (m. 1943-1986)
Awards: Grammy Lifetime Achievement Award
Quotes:
-Fear is a disease that eats away at logic and makes man inhuman.
-You lose a lot of time, hating people.
-As long as you keep a person down, some part of you has to be down there to hold him down, so it means you cannot soar as you otherwise might.
These are real USPS postage stamps that are accepted by the USA Postal Service as payment for mail posted in the USA however the total rates on the stamps posted must equal or exceed the current appropriate postal mailing rate or extra postage must be paid.
The stamp set shown in the picture is a stock photo and is likely not a picture of the exact stamp set you will receive in that it may differ in plate number and/or orientation. However the item you will receive will be similar including having a plate number (if one is present in the photos) and the same number of stamps. Stamps titled as MNH, OG will have no significant creases or unnatural gum disturbances unless otherwise noted.