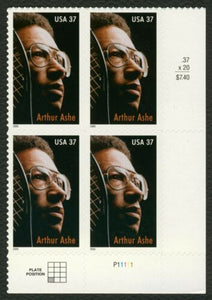 2005 - Arthur Ashe Plate Block Of 4 37c Postage Stamps - Sc# 3936 - DR156
Arthur Robert Ashe Jr. was an American professional tennis player who won three Grand Slam titles. Ashe was the first black player selected to the United States Davis Cup team and the only black man ever to win the singles title at Wimbledon, the US Open, and the Australian Open. He retired in 1980.
Born: July 10, 1943, Richmond, VA
Died: February 6, 1993, Hospital, New York, NY
Awards: Sports Illustrated Sportsperson of the Year
Quotes:
Start where you are. Use what you have. Do what you can.

Success is a journey, not a destination. The doing is often more important than the outcome.
True heroism is remarkably sober, very undramatic.
It is not the urge to surpass all others at whatever cost, but the urge to serve others at whatever cost.

These are real USPS postage stamps that are accepted by the Postal Service as payment for mail however the rates on the stamps must equal or exceed the current appropriate postal mailing cost or extra postage must be paid for if using them for mailing.
The stamp set shown in the picture is a stock photo and is likely not a picture of the exact stamp set you will receive in that it may differ in plate number and/or orientation. However the item you will receive will be similar including having a plate number (if one is present in the photos) and the same number of stamps.