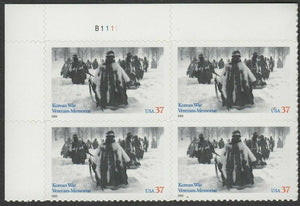 2003 Korean War Veterans Memorial Plate Block of 4 37c Postage Stamps - MNH, OG - Sc# 3803
2003 Korean War Veterans Memorial Plate Block of 4 37c Postage Stamps - MNH, OG - Sc# 3803
On July 27, 2003 in Washington DC., the USPS commemorates the Korean War Veterans Memorial that was dedicated on July 27, 1995. The 19 tall, stainless-steel figures, sculpted by Frank Gaylord, represent a unit on patrol, moving up the hill. They symbolize members of all the Armed Services. Images of supporting troops are etched on a black granite wall beside the statues. The memorial inscription reads, ""Our nation honors her sons and daughters who answered the call to defend a country they never knew and a people they never met." The Korean War Veterans Memorial is located in Washington, D.C.'s West Potomac Park, southeast of the Lincoln Memorial and just south of the Reflecting Pool on the National Mall. It commemorates those who served in the Korean War.
These are real USPS postage stamps that are accepted by the USA Postal Service as payment for mail posted in the USA however the total rates on the stamps posted must equal or exceed the current appropriate postal mailing rate or extra postage must be paid.
The stamp set shown in the picture is a stock photo and is likely not a picture of the exact stamp set you will receive and it may differ in plate number and/or orientation. However the item you will receive will be similar including having a plate number (if one is present in the photos) and the same number of stamps. Stamps titled as MNH, OG will have no significant creases or unnatural gum disturbances unless otherwise noted.