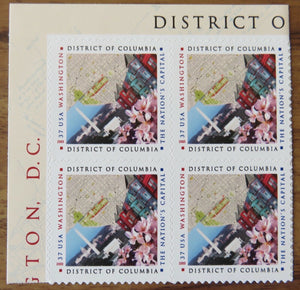 2003 District of Columbia Block of 4 37c Postage Stamps - MNH, OG - Sc# 3813
2003 District of Columbia Block of 4 37c Postage Stamps - MNH, OG - Sc# 3813
THIS IS A BLOCK OF FOUR STAMPS AS PICTURED. In 2003 the USPS issued the tenth diamond shaped stamp. President George Washington chose the site for the nation's capital and hired the French military engineer Pierre Charles L'Enfant to design it. Like the original area chosen for the capital city, the District of Columbia stamp is diamond-shaped. A detail from Pierre Charles L'Enfant's 1791 plan appears on the stamp, as well as row houses from the historic Shaw neighborhood, blossoms from cherry trees Japan presented to Washington in 1912, and famous national sites like the Lincoln Memorial and the Washington Monument.
These are real USPS postage stamps that are accepted by the USA Postal Service as payment for mail posted in the USA however the total rates on the stamps posted must equal or exceed the current appropriate postal mailing rate or extra postage must be paid.
The stamp set shown in the picture is a stock photo and is likely not a picture of the exact stamp set you will receive and it may differ in plate number and/or orientation. However the item you will receive will be similar including having a plate number (if one is present in the photos) and the same number of stamps. Stamps titled as MNH, OG will have no significant creases or unnatural gum disturbances unless otherwise noted.