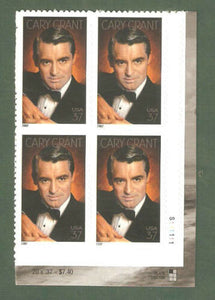 2002 Cary Grant Plate Block of 4 37c Postage Stamps - MNH, OG - Sc# 3692
2002 Cary Grant Plate Block of 4 37c Postage Stamps - MNH, OG - Sc# 3692
On October 15 2002 in Los Angeles CA; the USPS issued the 8th addition to the Legends of Hollywood series. Grant was one of the silver screen's most beloved actors, charmed audiences as a debonair leading man, bringing wit and sophistication to his varied roles in more than seventy movies. Born Archibald Leach in Bristol, England, he came to the United States in 1920. In 1942, he legally changed his name to Cary Grant and became a citizen of the United States, ten years after his first feature film "This is the Night." With his distinctive yet not quite placeable Mid-Atlantic accent, he was noted as perhaps the foremost exemplar of the debonair leading man, handsome, virile, charismatic and charming. At the 42nd Academy Awards the Academy of Motion Picture Arts and Sciences honored him with an Honorary Award "for his unique mastery of the art of screen acting with the respect and affection of his colleagues".
These are real USPS postage stamps that are accepted by the USA Postal Service as payment for mail posted in the USA however the total rates on the stamps posted must equal or exceed the current appropriate postal mailing rate or extra postage must be paid.
The stamp set shown in the picture is a stock photo and is likely not a picture of the exact stamp set you will receive and it may differ in plate number and/or orientation. However the item you will receive will be similar including having a plate number (if one is present in the photos) and the same number of stamps. Stamps titled as MNH, OG will have no significant creases or unnatural gum disturbances unless otherwise noted.