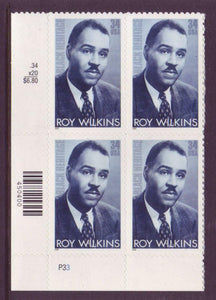 2001 Roy Wilkins Plate Block Of 4 34c Postage Stamps - Sc 3501 - MNH - CX838
Roy Ottoway Wilkins (August 30, 1901 – September 8, 1981) was a prominent activist in the Civil Rights Movement in the United States from the 1930s to the 1970s.[1][2] Wilkins' most notable role was his leadership of the National Association for the Advancement of Colored People (NAACP) in which he held the title of Executive Secretary from 1955 to 1963 and Executive Director from 1964 to 1977.[2] Wilkins' was a central figure in many notable marches of the civil rights movement. He made valuable contributions in the world of African American literature, and his voice was used to further the efforts in the fight for equality. Wilkins' pursuit of social justice also touched the lives of veterans and active service members, through his awards and recognition of exemplary military personnel.

These are real USPS postage stamps that are accepted by the Postal Service as payment for mail however the rates on the stamps must equal or exceed the current appropriate postal mailing cost or extra postage must be paid for if using them for mailing.
The stamp set shown in the picture is a stock photo and is likely not a picture of the exact stamp set you will receive in that it may differ in plate number and/or orientation. However the item you will receive will be similar including having a plate number (if one is present in the photos) and the same number of stamps.