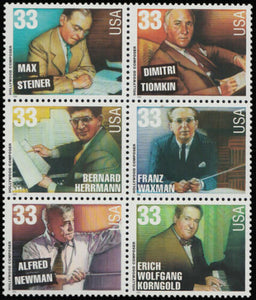 1999 Hollywood Composers Block Of 6 33c Postage Stamps - Sc 3339-3344 - MNH -DS103
1999 Hollywood Composers Block Of 6 33c Postage Stamps - Sc 3339-3344 - MNH -DS103
In 1999 these stamps were issued the 13th installment of the Legends of American Music series honors six of Hollywood's greatest composers. Max Steiner (1888-1971), Dimitri Tiomkin (1894-1979), Bernard Herrmann (1911-1975), Franz Waxman (1906-67), Alfred Newman (1901-1970), and Erich Korngold (1897-1957) were all classically trained musicians who created orchestral scores to accompany feature films. Their soundtracks brought greater drama and feeling to the movies, and have stirred the emotions of millions of movie fans. Most of these composers' best-known works have been made available as audio recordings.
These are real USPS postage stamps that are accepted by the USA Postal Service as payment for mail posted in the USA however the total rates on the stamps posted must equal or exceed the current appropriate postal mailing rate or extra postage must be paid.
The stamp set shown in the picture is a stock photo and is likely not a picture of the exact stamp set you will receive and it may differ in plate number and/or orientation. However the item you will receive will be similar including having a plate number (if one is present in the photos) and the same number of stamps. Stamps titled as MNH, OG will have no significant creases or unnatural gum disturbances unless otherwise noted.