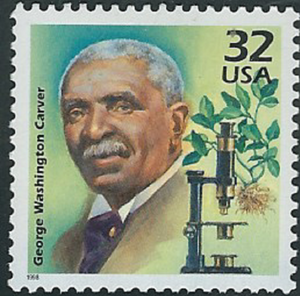 1998 George Washington Carver Single 32c Postage Stamp - MNH, OG - Sc# 3183c
1998 George Washington Carver Single 32c Postage Stamp - MNH, OG - Sc# 3183c
George Washington Carver was an American agricultural scientist and inventor who promoted alternative crops to cotton and methods to prevent soil depletion. He was the most prominent black scientist of the early 20th century.
Born: January 1, 1864, Diamond, MO
Died: January 5, 1943, Tuskegee, AL
Education: Iowa State University (1894-1896)
Awards: Spingarn Medal

Quotes:
Education is the key to unlock the golden door of freedom.
When you do the common things in life in an uncommon way, you will command the attention of the world.
Where there is no vision, there is no hope.
These are real USPS postage stamps that are accepted by the USA Postal Service as payment for mail posted in the USA however the total rates on the stamps posted must equal or exceed the current appropriate postal mailing rate or extra postage must be paid.
The stamp set shown in the picture is a stock photo and is likely not a picture of the exact stamp set you will receive and it may differ in plate number and/or orientation. However the item you will receive will be similar including having a plate number (if one is present in the photos) and the same number of stamps. Stamps titled as MNH, OG will have no significant creases or unnatural gum disturbances unless otherwise noted.