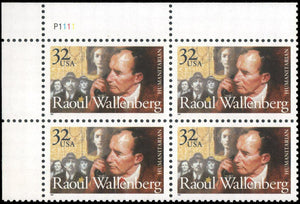 1997 Raoul Wallenberg Plate Block Of 4 32c Postage Stamps - Sc 3135 - MNH - CWA8
1997 Raoul Wallenberg Plate Block Of 4 32c Postage Stamps - Sc 3135 - MNH - CWA8
Per Wikipedia - Raoul Gustaf Wallenberg (4 August 1912 - disappeared 17 January 1945) was a Swedish architect, businessman, diplomat, and humanitarian. He saved tens of thousands of Jews in Nazi-occupied Hungary during the Holocaust from German Nazis and Hungarian Fascists during the later stages of World War II. While serving as Sweden's special envoy in Budapest between July and December 1944, Wallenberg issued protective passports and sheltered Jews in buildings designated as Swedish territory.
These are real USPS postage stamps that are accepted by the USA Postal Service as payment for mail posted in the USA however the total rates on the stamps posted must equal or exceed the current appropriate postal mailing rate or extra postage must be paid.
The stamp set shown in the picture is a stock photo and is likely not a picture of the exact stamp set you will receive and it may differ in plate number and/or orientation. However the item you will receive will be similar including having a plate number (if one is present in the photos) and the same number of stamps. Stamps titled as MNH, OG will have no significant creases or unnatural gum disturbances unless otherwise noted.