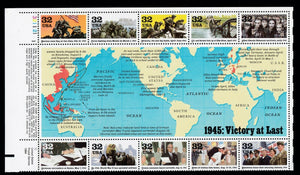 1995 WW2 World War 2 Victory At Last Sheet of 10 32c Postage Stamps - Sc# 2981 - MNH, OG - CW237
1995 WW2 World War 2 Victory At Last Sheet of 10 32c Postage Stamps - Sc# 2981 - MNH, OG - CW237
In 1995 the USPS issued the fifth and final installment of the World War II series commemorating the 50th anniversary of the war's final year. Titled "1945: Victory at Last," these 10 stamps chronicle the events leading to Germany's surrender, the Japanese surrender, and ultimately the Allied victory. Nearly 300,000 American service personnel lost their lives between 1941 and 1945. President Clinton attended the dedication of these stamps on September 2, 1995, in Honolulu, Hawaii. The ceremony was held on the aircraft carrier the USS Carl Vinson, with the USS Arizona Memorial in view. In 1991, the USS Arizona was featured on the first series of World War II stamps on the "Japanese bomb Pearl Harbor, December 7, 1941" stamp. At the dedication, Postmaster General Marvin Runyon said, "Nearly 300,000 American servicemen and women paid the ultimate price between 1941 and 1945. The World War II stamp series is a fitting tribute to all who served our country."
These are real USPS postage stamps that are accepted by the USA Postal Service as payment for mail posted in the USA however the total rates on the stamps posted must equal or exceed the current appropriate postal mailing rate or extra postage must be paid.
The stamp set shown in the picture is a stock photo and is likely not a picture of the exact stamp set you will receive and it may differ in plate number and/or orientation. However the item you will receive will be similar including having a plate number (if one is present in the photos) and the same number of stamps. Stamps titled as MNH, OG will have no significant creases or unnatural gum disturbances unless otherwise noted.