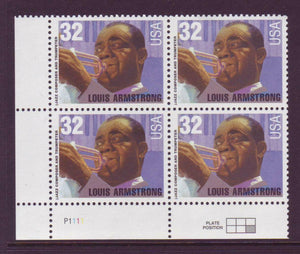 1995 Louis Armstrong Plate Block Of 4 32c Postage Stamps - MNH, OG - Scott# 2982 - DS192
1995 Louis Armstrong Plate Block Of 4 32c Postage Stamps - MNH, OG - Scott# 2982 - DS192
On September 1, 1995 in New Orleans, LA., The USPS honored Louis Armstrong, also known as Satchmo, Pops and Sachimo. Armstrong was a Jazz innovator of the highest order, his musicianship and personality were so appealing that in the 1930s he became not only a bandleader and solo performer (trumpet), but also a comedian, movie star, and international celebrity. At the time of this stamp's release in September 1995, the USPS stated that Armstrong was the most requested male stamp subject. In the seven years prior to this issue, more than 38,765 signatures representing 62 countries had been collected by the New Orleans Jazz Club Collection of the Louisiana State Museum in support of an Armstrong stamp. Louis Armstrong was born on August 4. 1901 in New Orleans, and died on July 6, 1971 in Queens, NY., at the age of 69.
These are real USPS postage stamps that are accepted by the USA Postal Service as payment for mail posted in the USA however the total rates on the stamps posted must equal or exceed the current appropriate postal mailing rate or extra postage must be paid.
The stamp set shown in the picture is a stock photo and is likely not a picture of the exact stamp set you will receive and it may differ in plate number and/or orientation. However the item you will receive will be similar including having a plate number (if one is present in the photos) and the same number of stamps. Stamps titled as MNH, OG will have no significant creases or unnatural gum disturbances unless otherwise noted.