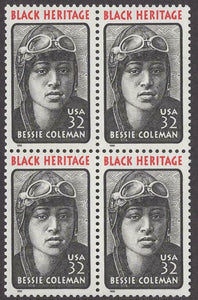 1995 - Bessie Coleman Block Of 4 32c Postage Stamps - MNH - Sc # 2956 - CX816
Bessie Coleman soared across the sky as the first African American, and the first Native American woman pilot. Known for performing flying tricks, Coleman's nicknames were; "Brave Bessie," "Queen Bess," and "The Only Race Aviatrix in the World." Her goal was to encourage women and African Americans to reach their dreams. Unfortunately, her career ended with a tragic plane crash, but her life continues to inspire people around the world.

Born in Atlanta, Texas on January 26, 1892, Bessie Coleman had twelve brothers and sisters. Her mother, Susan Coleman, was an African American maid, and her father George Coleman was a Native American sharecropper. In 1901, her father decided to move back to Oklahoma to try to escape discrimination. Bessie's mother decided not to go with him. Instead, the rest of the family stayed in Waxahachie, Texas. Bessie grew up helping her mother pick cotton and wash laundry to earn extra money. By the time she was eighteen, she saved enough money to attend the Colored Agricultural and Normal University (now Langston University) in Langston, Oklahoma. She dropped out of college after only one semester because she could not afford to attend.
These are real USPS postage stamps that are accepted by the Postal Service as payment for mail however the rates on the stamps must equal or exceed the current appropriate postal mailing cost or extra postage must be paid for if using them for mailing.
The stamp set shown in the picture is a stock photo and is likely not a picture of the exact stamp set you will receive in that it may differ in plate number and/or orientation. However the item you will receive will be similar including having a plate number (if one is present in the photos) and the same number of stamps.