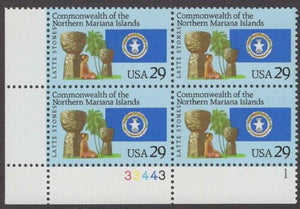 1993 Mariana Islands Plate Block of 4 29c Postage Stamps - MNH, OG - Sc# 2804
1993 Mariana Islands Plate Block of 4 29c Postage Stamps - MNH, OG - Sc# 2804
On November 4 1993 in Saipan, MP issued this stamp celebrating the 15th anniversary of the territorial status of the Commonwealth of the Northern Mariana Islands. A covenant to establish a commonwealth in political union with the U.S. was approved in 1975. A new government and constitution went into effect in 1978, creating a commonwealth in political union with the United States. The Northern Mariana Islands consist of fifteen islands in the Pacific Ocean about three-quarters of the way from Hawaii to the Philippines. Latte stones are pillars capped by a hemispherical stone capital with the flat side facing up. Used as building supports by the ancient Chamorro people, they are found throughout most of the Mariana Islands. In modern times, the latte stone is seen as a sign of Chamorro identity and is used in many different contexts.
These are real USPS postage stamps that are accepted by the USA Postal Service as payment for mail posted in the USA however the total rates on the stamps posted must equal or exceed the current appropriate postal mailing rate or extra postage must be paid.
The stamp set shown in the picture is a stock photo and is likely not a picture of the exact stamp set you will receive and it may differ in plate number and/or orientation. However the item you will receive will be similar including having a plate number (if one is present in the photos) and the same number of stamps. Stamps titled as MNH, OG will have no significant creases or unnatural gum disturbances unless otherwise noted.