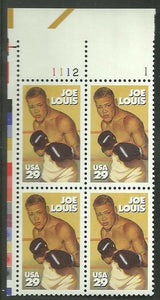 1993 Joe Louis Plate Block Of 4 29c Postage Stamps - Sc 2766 - MNH - DS135c
1993 Joe Louis Plate Block Of 4 29c Postage Stamps - Sc 2766 - MNH - DS135c
Born Joe Louis Barrow, he shortened his name to Joe Louis after he began fighting. In 1934 he won the National Amateur Association Light Heavyweight Championship and later that year turned to professional boxing. He won his first 23 bouts before being defeated by former heavyweight champion Max Schmeling in 1936. The following year he regained his title, which he successfully defended 25 times until his retirement in 1949. His reign as heavyweight champion, which lasted 12 years, was the longest in the history of the heavyweight division.
These are real USPS postage stamps that are accepted by the USA Postal Service as payment for mail posted in the USA however the total rates on the stamps posted must equal or exceed the current appropriate postal mailing rate or extra postage must be paid.
The stamp set shown in the picture is a stock photo and is likely not a picture of the exact stamp set you will receive and it may differ in plate number and/or orientation. However the item you will receive will be similar including having a plate number (if one is present in the photos) and the same number of stamps. Stamps titled as MNH, OG will have no significant creases or unnatural gum disturbances unless otherwise noted.