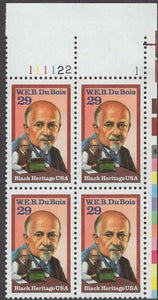 1992 W.E.B. Du Bois Black Heritage Plate Block Of 4 29c Postage Stamps - Sc# 2617 - MNH - CW399b
1992 W.E.B. Du Bois Black Heritage Plate Block Of 4 29c Postage Stamps - Sc# 2617 - MNH - CW399b
William Edward Burghardt Du Bois - February 23, 1868 - August 27, 1963 was an American sociologist, historian, civil rights activist, Pan-Africanist, author, writer and editor. Born in Great Barrington, Massachusetts, Du Bois grew up in a relatively tolerant and integrated community, and after completing graduate work at the University of Berlin and Harvard, where he was the first African American to earn a doctorate, he became a professor of history, sociology and economics at Atlanta University. Due to his contributions in the African-American community he was seen as a member of a Black elite that supported some aspects of eugenics for blacks. Du Bois was one of the founders of the National Association for the Advancement of Colored People (NAACP) in 1909.
Quotes:
The problem of the twentieth century is the problem of the color line.

The cost of liberty is less than the price of repression.

To be a poor man is hard, but to be a poor race in a land of dollars is the very bottom of hardships.
These are real USPS postage stamps that are accepted by the USA Postal Service as payment for mail posted in the USA however the total rates on the stamps posted must equal or exceed the current appropriate postal mailing rate or extra postage must be paid.
The stamp set shown in the picture is a stock photo and is likely not a picture of the exact stamp set you will receive and it may differ in plate number and/or orientation. However the item you will receive will be similar including having a plate number (if one is present in the photos) and the same number of stamps. Stamps titled as MNH, OG will have no significant creases or unnatural gum disturbances unless otherwise noted.