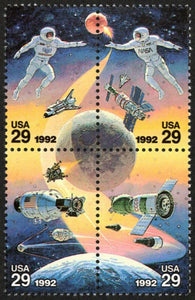 1992 Space Accomplishments Block Of 4 29c Postage Stamps - Sc 2631-2634 - MNH -DS120
1992 Space Accomplishments Block Of 4 29c Postage Stamps - Sc 2631-2634 - MNH -DS120
In 1992 the USPS issued this dramatic space se-tenant; a joint issue with our former space race rivals, the Soviet Union. The design, which was a collaboration between U.S. and Soviet artists, presented a broad spectrum of space exploration. Significant achievements of the last 25 years let us take a look at the past and present, while elements anticipating future achievements allowed us to catch a glimpse ahead.
These are real USPS postage stamps that are accepted by the USA Postal Service as payment for mail posted in the USA however the total rates on the stamps posted must equal or exceed the current appropriate postal mailing rate or extra postage must be paid.
The stamp set shown in the picture is a stock photo and is likely not a picture of the exact stamp set you will receive and it may differ in plate number and/or orientation. However the item you will receive will be similar including having a plate number (if one is present in the photos) and the same number of stamps. Stamps titled as MNH, OG will have no significant creases or unnatural gum disturbances unless otherwise noted.