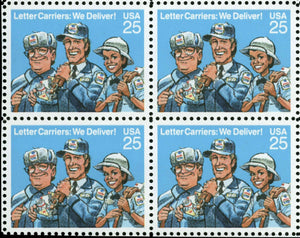 1989 Letter Carriers Block Of 4 25c Postage Stamps - Sc 2420 - MNH, OG - CW462a
1989 Letter Carriers Block Of 4 25c Postage Stamps - Sc 2420 - MNH, OG - CW462a
On August 30 1989 in Milwaukee WI at the centennial celebration of the National Association of Letter Carriers (NALC), the USPS honored letter carriers with 25 cent commemorative stamps. In 1863 free city delivery was instituted by the postmaster general Montgomery Blair. The Post Office gradually extended the service to smaller towns and in 1902 made the principle of "every man's mail to every man's door" universal by creating rural free delivery on a permanent basis.
These are real USPS postage stamps that are accepted by the USA Postal Service as payment for mail posted in the USA however the total rates on the stamps posted must equal or exceed the current appropriate postal mailing rate or extra postage must be paid.
The stamp set shown in the picture is a stock photo and is likely not a picture of the exact stamp set you will receive and it may differ in plate number and/or orientation. However the item you will receive will be similar including having a plate number (if one is present in the photos) and the same number of stamps. Stamps titled as MNH, OG will have no significant creases or unnatural gum disturbances unless otherwise noted.