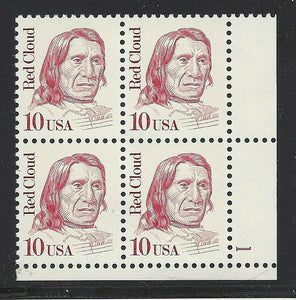 1987 Red Cloud Native American Plate Block of 4 10c Postage Stamps - MNH, OG - Sc# 2175 - CY1111b
1987 Red Cloud Native American Plate Block of 4 10c Postage Stamps - MNH, OG - Sc# 2175 - CY1111b
Per Wikipedia:
Red Cloud (Lakota) (born 1822 - December 10, 1909) was one of the most important leaders of the Oglala Lakota from 1868 to 1909. He was one of the most capable Native American opponents that the United States Army faced in its mission to occupy the western territories, defeating the United States during Red Cloud's War, which was a fight over control of the Powder River Country in northeastern Wyoming and southern Montana. The largest action of the war was the Fetterman Fight, with 81 U.S soldiers killed, and was the worst military defeat suffered by the United States Army on the Great Plains until the Battle of the Little Bighorn ten years later.

After signing the Treaty of Fort Laramie (1868), Red Cloud led his people in the important transition to reservation life. Some of his opponents mistakenly thought of him as overall leader of the Sioux groups (Dakota, Lakota, and Nakota), but the large tribe had several major divisions and was highly decentralized. Bands among the Oglala and other divisions operated independently, even though some individual leaders were renowned as warriors and highly respected as leaders, such as Red Cloud.
These are real USPS postage stamps that are accepted by the USA Postal Service as payment for mail posted in the USA however the total rates on the stamps posted must equal or exceed the current appropriate postal mailing rate or extra postage must be paid.
The stamp set shown in the picture is a stock photo and is likely not a picture of the exact stamp set you will receive and it may differ in plate number and/or orientation. However the item you will receive will be similar including having a plate number (if one is present in the photos) and the same number of stamps. Stamps titled as MNH, OG will have no significant creases or unnatural gum disturbances unless otherwise noted.