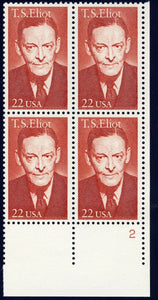 1986 TS Eliot Plate Block Of 4 22c Postage Stamps - Sc 2239 - MNH, OG - CX867
1986 TS Eliot Plate Block Of 4 22c Postage Stamps - Sc 2239 - MNH, OG - CX867
Per Wikipedia:
Thomas Stearns Eliot OM was an American-born British poet, essayist, publisher, playwright, literary critic and editor. Born in St. Louis, Missouri, to a prominent Boston Brahmin family, he moved to England in 1914 at the age of 25 and went on to settle, work and marry there. Wikipedia
Born: September 26, 1888, St. Louis, MO
Died: January 4, 1965, Kensington
Poems: The Waste Land, The Love Song of J. Alfred Prufrock, MORE
Spouse: Valerie Eliot (m. 1957-1965), Vivienne Haigh-Wood Eliot (m. 1915-1947)

Quotes
April is the cruelest month, breeding lilacs out of the dead land, mixing memory and desire, stirring dull roots with spring rain.
This is the way the world ends, not with a bang, but a whimper.
I have measured out my life with coffee spoons.

These are real USPS postage stamps that are accepted by the USA Postal Service as payment for mail posted in the USA however the total rates on the stamps posted must equal or exceed the current appropriate postal mailing rate or extra postage must be paid.
The stamp set shown in the picture is a stock photo and is likely not a picture of the exact stamp set you will receive and it may differ in plate number and/or orientation. However the item you will receive will be similar including having a plate number (if one is present in the photos) and the same number of stamps. Stamps titled as MNH, OG will have no significant creases or unnatural gum disturbances unless otherwise noted.