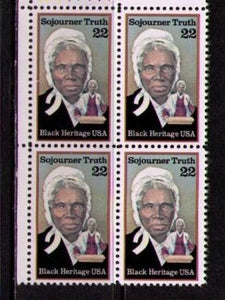 1986 - Sojourner Truth Block Of 4 22c Postage Stamps - MNH - Sc# 2203 - CW388a
Sojourner Truth was an African-American abolitionist and women's rights activist. Truth was born into slavery in Swartekill, Ulster County, New York, but escaped with her infant daughter to freedom in 1826

Quotes:
Truth is powerful and it prevails.

If women want any rights more than they's got, why don't they just take them, and not be talking about it.

I am not going to die, I'm going home like a shooting star.
These are real USPS postage stamps that are accepted by the Postal Service as payment for mail however the rates on the stamps must equal or exceed the current appropriate postal mailing cost or extra postage must be paid for if using them for mailing.
The stamp set shown in the picture is a stock photo and is likely not a picture of the exact stamp set you will receive in that it may differ in plate number and/or orientation. However the item you will receive will be similar including having a plate number (if one is present in the photos) and the same number of stamps.