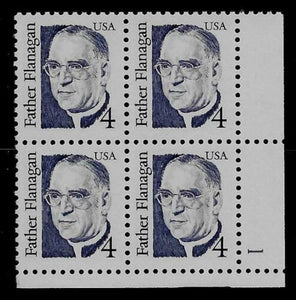 1986 Father Flanagan Plate Block of 4 4c Postage Stamps - MNH, OG - Sc# 2171
On July 14 1986 in Boys Town, NE the USPS honored Father Flanagan, the founder the most famous orphanage -Boys Town. In 1917, he founded a home for homeless boys in Omaha. Because the downtown facilities were inadequate, he established Boys Town, ten miles west of Omaha, in 1921. Under Father Flanagan's direction, Boys Town grew to be a large community with its own boy-mayor, schools, chapel, post office, cottages, gymnasium, and other facilities where boys between the ages of 10 and 16 could receive an education and learn a trade. Flanagan died in 1948 at the age of 62, he was buried in the Dowd Chapel at Boys Town.
These are real USPS postage stamps that are accepted by the USA Postal Service as payment for mail posted in the USA however the total rates on the stamps posted must equal or exceed the current appropriate postal mailing rate or extra postage must be paid.
The stamp set shown in the picture is a stock photo and is likely not a picture of the exact stamp set you will receive in that it may differ in plate number and/or orientation. However the item you will receive will be similar including having a plate number (if one is present in the photos) and the same number of stamps. Stamps titled as MNH, OG will have no significant creases or unnatural gum disturbances unless otherwise noted.