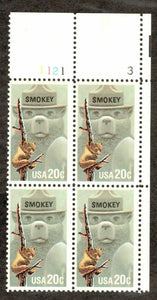 1984 Smokey Bear Plate Block of 4 20c Postage Stamps - MNH, OG - Sc# 2096
On August 13, 1984 in Capitan, NM; the USPS commemorated Smokey Bear (often unofficially referred to as Smokey the Bear) a mascot of the United States Forest Service created to educate the public on the dangers of forest fires. Smokey Bear's message, "Only You Can Prevent Forest Fires," was created in 1944 by the Ad Council. In April 2001, Smokey's message was updated to "Only You Can Prevent Wildfires." According to the Ad Council, Smokey Bear and his message are recognized by 95% of adults and 77% of children in the U.S. Smokey's correct full name is Smokey Bear. In 1952, the songwriters Steve Nelson and Jack Rollins had a hit with "Smokey the Bear". The pair said that "the" was added to Smokey's name to keep the song's rhythm. This small change has caused confusion among Smokey fans ever since. Note that, from the beginning, Smokey's name was intentionally spelled differently from the adjective smoky. The Forest Service emphatically denies that the name was ever "Smokey the Bear"; however, in the 1950s, that variant of the name became very widespread both in the popular imagination and in print, including at least one standard encyclopedia. The campaign to remind the public of the correct version of the name is almost as old as the Smokey Bear campaign itself.

These are real USPS postage stamps that are accepted by the USA Postal Service as payment for mail posted in the USA however the total rates on the stamps posted must equal or exceed the current appropriate postal mailing rate or extra postage must be paid.
The stamp set shown in the picture is a stock photo and is likely not a picture of the exact stamp set you will receive in that it may differ in plate number and/or orientation. However the item you will receive will be similar including having a plate number (if one is present in the photos) and the same number of stamps. Stamps titled as MNH, OG will have no significant creases or unnatural gum disturbances unless otherwise noted.