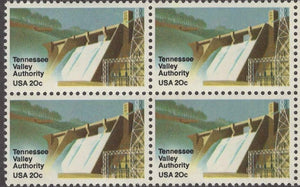 1983 Tennessee Valley Authority Block of 4 20c Postage Stamps - MNH, OG - Sc# 2042
1983 Tennessee Valley Authority Block of 4 20c Postage Stamps - MNH, OG - Sc# 2042
The Tennessee Valley Authority (TVA) is a federally owned corporation in the United States created by congressional charter on May 18, 1933, to provide navigation, flood control, electricity generation, fertilizer manufacturing, and economic development to the Tennessee Valley, a region particularly affected by the Great Depression. Senator George W. Norris (R-Nebraska) was a strong sponsor of this project. TVA was envisioned not only as a provider, but also as a regional economic development agency that would use federal experts and rural electrification to help modernize the rural region's economy and society.

TVA's service area covers most of Tennessee, portions of Alabama, Mississippi, and Kentucky, and small slices of Georgia, North Carolina, and Virginia. It was the first large regional planning agency of the federal government and remains the largest.
These are real USPS postage stamps that are accepted by the USA Postal Service as payment for mail posted in the USA however the total rates on the stamps posted must equal or exceed the current appropriate postal mailing rate or extra postage must be paid.
The stamp set shown in the picture is a stock photo and is likely not a picture of the exact stamp set you will receive and it may differ in plate number and/or orientation. However the item you will receive will be similar including having a plate number (if one is present in the photos) and the same number of stamps. Stamps titled as MNH, OG will have no significant creases or unnatural gum disturbances unless otherwise noted.