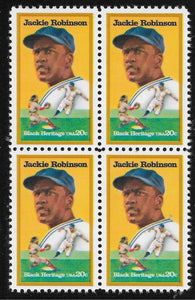 1982 Jackie Robinson Block Of 4 20c Stamps - Sc 2016 - MNH, OG - DS156
1982 Jackie Robinson Block Of 4 20c Stamps - Sc 2016 - MNH, OG - DS156
Jack Roosevelt Robinson was an American professional baseball player who became the first African American to play in Major League Baseball in the modern era. Robinson broke the baseball color line when he started at first base for the Brooklyn Dodgers on April 15, 1947.

Quotes:
A life is not important except in the impact it has on other lives.

Baseball is like a poker game. Nobody wants to quit when he's losing; nobody wants you to quit when you're ahead.

I'm not concerned with your liking or disliking me... All I ask is that you respect me as a human being.
These are real USPS postage stamps that are accepted by the USA Postal Service as payment for mail posted in the USA however the total rates on the stamps posted must equal or exceed the current appropriate postal mailing rate or extra postage must be paid.
The stamp set shown in the picture is a stock photo and is likely not a picture of the exact stamp set you will receive and it may differ in plate number and/or orientation. However the item you will receive will be similar including having a plate number (if one is present in the photos) and the same number of stamps. Stamps titled as MNH, OG will have no significant creases or unnatural gum disturbances unless otherwise noted.