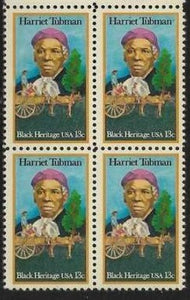 1978 Harriet Tubman Block of 4 13c Postage Stamps - MNH, OG - Sc# 1744
1978 Harriet Tubman Block of 4 13c Postage Stamps - MNH, OG - Sc# 1744
Per Wikipedia: Harriet Tubman was an American abolitionist and political activist. Born into slavery, Tubman escaped and subsequently made some 13 missions to rescue approximately 70 enslaved people, including family and friends, using the network of antislavery activists and safe houses known as the Underground Railroad.

Quotes:
Every great dream begins with a dreamer. Always remember, you have within you the strength, the patience, and the passion to reach for the stars to change the world.

I had reasoned this out in my mind, there was one of two things I had a right to, liberty or death; if I could not have one, I would have the other.

I grew up like a neglected weed - ignorant of liberty, having no experience of it.
These are real USPS postage stamps that are accepted by the USA Postal Service as payment for mail posted in the USA however the total rates on the stamps posted must equal or exceed the current appropriate postal mailing rate or extra postage must be paid.
The stamp set shown in the picture is a stock photo and is likely not a picture of the exact stamp set you will receive and it may differ in plate number and/or orientation. However the item you will receive will be similar including having a plate number (if one is present in the photos) and the same number of stamps. Stamps titled as MNH, OG will have no significant creases or unnatural gum disturbances unless otherwise noted.