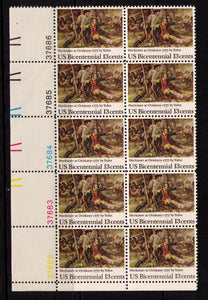 1977 USA Bicentennial Herkimer At Oriskany Plate Block Of 10 13c Postage Stamps - Sc# 1722 - MNH, OG - CW35a
1977 USA Bicentennial Herkimer At Oriskany Plate Block Of 10 13c Postage Stamps - Sc# 1722 - MNH, OG - CW35a
On August 6, 1977 in Herkimer, NY; the USPS honored the 200 anniversary of when General Nicholas Herkimer and his800 militiamen stopped an advance by British Colonel Barry St. Leger at Oriskany, in New York State's Mohawk Valley, thus contributing to the failure of the British northern campaign. Herkimer died of wounds on August 16, seven days before St. Leger withdrew permanently from the area. The site of the battleground is now a state park marked by a memorial shaft erected in 1883. The stamp designer Bradbury Thompson based the stamp on the Frederick Yohn painting that hangs in the Utica, New York, Public Library.
These are real USPS postage stamps that are accepted by the USA Postal Service as payment for mail posted in the USA however the total rates on the stamps posted must equal or exceed the current appropriate postal mailing rate or extra postage must be paid.
The stamp set shown in the picture is a stock photo and is likely not a picture of the exact stamp set you will receive and it may differ in plate number and/or orientation. However the item you will receive will be similar including having a plate number (if one is present in the photos) and the same number of stamps. Stamps titled as MNH, OG will have no significant creases or unnatural gum disturbances unless otherwise noted.