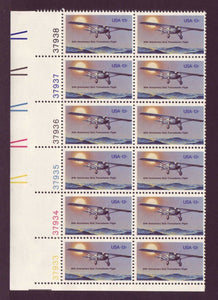 1977 Anniversary Solo Transatlantic Flight Plate Block of 12 13c Postage Stamps - MNH, OG - Sc# 1710
On May 20, 1977 in Garden City NY; the USPS celebrated the 50th anniversary of the first solo transatlantic flight, the Lindberg Flight, an epic event in aviation history. When Charles A. Lindbergh took off from Roosevelt Field on Long Island, New York at 7:52 am on May 20, 1927, in the "Spirit of St. Louis," he flew alone with only one engine. He took no radio, no night flying equipment, no parachute, armed only with a compass and a map. His destination: Paris, France. Thirty-three hours and 29 ½ minutes later, he landed at Le Bourget Field completing the first non-stop solo flight over the Atlantic Ocean. The stamp designed by Robert E. Cunningham, shows the "Spirit of St. Louis" low over the water with the setting sun appearing behind the right wing of the aircraft. Lindbergh's name and portrait were not included with this stamp, as Postal Service policy precludes honoring a person with issuance of a stamp sooner than 10 years after death. Lindbergh died in 1974.
These are real USPS postage stamps that are accepted by the USA Postal Service as payment for mail posted in the USA however the total rates on the stamps posted must equal or exceed the current appropriate postal mailing rate or extra postage must be paid.
The stamp set shown in the picture is a stock photo and is likely not a picture of the exact stamp set you will receive in that it may differ in plate number and/or orientation. However the item you will receive will be similar including having a plate number (if one is present in the photos) and the same number of stamps. Stamps titled as MNH, OG will have no significant creases or unnatural gum disturbances unless otherwise noted.