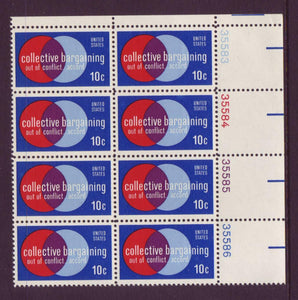 1975 Collective Bargaining Plate Block of 8 10c Postage Stamps - MNH, OG - Sc# 1558
1975 Collective Bargaining Plate Block of 8 10c Postage Stamps - MNH, OG - Sc# 1558
On March 13, 1975 in Washington, DC; the USPS acknowledged the 50th anniversary of the Wagner Act, passed in 1935 and later amended by the Taft-Hartley Act of 1947, that required employers to negotiate with elected representatives of their workers. Collective bargaining, the process by which differences are reconciled, has played an important and positive role in the development of American society. President Gerald Ford joined representatives of labor and management at the dedication of this stamp. The stamp designer was Robert Hallock.
These are real USPS postage stamps that are accepted by the USA Postal Service as payment for mail posted in the USA however the total rates on the stamps posted must equal or exceed the current appropriate postal mailing rate or extra postage must be paid.
The stamp set shown in the picture is a stock photo and is likely not a picture of the exact stamp set you will receive and it may differ in plate number and/or orientation. However the item you will receive will be similar including having a plate number (if one is present in the photos) and the same number of stamps. Stamps titled as MNH, OG will have no significant creases or unnatural gum disturbances unless otherwise noted.