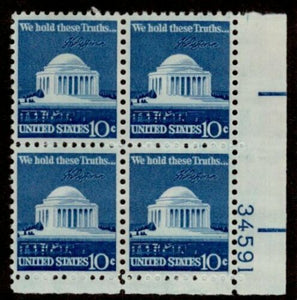 1973 Jefferson Memorial Plate Block of 4 10c Postage Stamps - MNH, OG - Sc# 1510
In 1973 the USPS issued this 10 cent stamp of the Jefferson Memorial. Located on the south side of the Tidal Basin in Washington, D.C., the Jefferson Memorial is one of the three memorials to famous American Presidents. Built in the classical style that Jefferson preferred, the memorial overlooks the Potomac River and is surrounded by picturesque cherry trees. Inside stands an 18 foot statue of Thomas Jefferson. Quotations from his writings, including the Declaration of Independence, are etched on the four interior walls. The building was dedicated on April 13, 1943 - Jefferson's 200th birthday.
These are real USPS postage stamps that are accepted by the USA Postal Service as payment for mail posted in the USA however the total rates on the stamps posted must equal or exceed the current appropriate postal mailing rate or extra postage must be paid.
The stamp set shown in the picture is a stock photo and is likely not a picture of the exact stamp set you will receive in that it may differ in plate number and/or orientation. However the item you will receive will be similar including having a plate number (if one is present in the photos) and the same number of stamps. Stamps titled as MNH, OG will have no significant creases or unnatural gum disturbances unless otherwise noted.