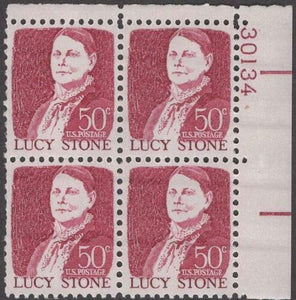 1968 Lucy Stone Plate Block of 4 50c Postage Stamps - MNH, OG - Sc# 1293
On August 13, 1968 in Dorchester, MA; the US Post Office Dept celebrated the 150th anniversary of the birth of Lucy Stone, a prominent American abolitionist and suffragist. Stone spoke out for women's rights and against slavery at a time when women were discouraged and prevented from public speaking. She assisted in establishing the Woman's National Loyal League to help pass the Thirteenth Amendment and thereby abolish slavery. Along with Susan B Anthony and Elizabeth Cady Stanton they had been referred to as the 19th century "triumvirate" of women's suffrage and feminism.
These are real USPS postage stamps that are accepted by the USA Postal Service as payment for mail posted in the USA however the total rates on the stamps posted must equal or exceed the current appropriate postal mailing rate or extra postage must be paid.
The stamp set shown in the picture is a stock photo and is likely not a picture of the exact stamp set you will receive in that it may differ in plate number and/or orientation. However the item you will receive will be similar including having a plate number (if one is present in the photos) and the same number of stamps. Stamps titled as MNH, OG will have no significant creases or unnatural gum disturbances unless otherwise noted.