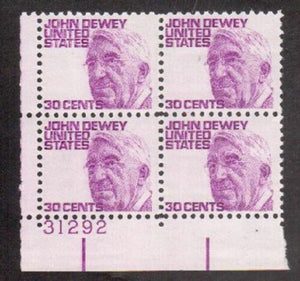 1968 John Dewey Plate Block of 4 30c Postage Stamps - MNH, OG - Sc# 1291
On October 21, 1968 in Burlington, VT; the USPS honored American philosopher, psychologist, and educational reformer, John Dewey, whose ideas have been influential in education and social reform. Dewey, is recognized as one of the founders of the philosophy of pragmatism and of functional psychology. Dewey considered two fundamental elements-schools and civil society-as being major topics needing attention and reconstruction to encourage experimental intelligence and plurality. Dewey asserted that complete democracy was to be obtained not just by extending voting rights but also by ensuring that there exists a fully-formed public opinion, accomplished by effective communication among citizens, experts, and politicians, with the latter being accountable for the policies they adopt. Dewey criticized the dichotomy between means and ends which he saw as responsible for the degradation of our everyday working lives and education, both conceived as merely a means to an end. He stressed the need for meaningful labor and a conception of education that viewed it not as a preparation for life but as life itself. As a classical pragmatists, Dewey wrote most extensively about morality and democracy. In his classic article Three Independent Factors in Morals, he tried to integrate three basic philosophical perspectives on morality: the right, the virtuous and the good. He held that while all three provide meaningful ways to think about moral questions, the possibility of conflict among the three elements cannot always be easily solved. John Dewey was born on October 20, 1859 and died on June 1 1952 at the age of 92.
These are real USPS postage stamps that are accepted by the USA Postal Service as payment for mail posted in the USA however the total rates on the stamps posted must equal or exceed the current appropriate postal mailing rate or extra postage must be paid.
The stamp set shown in the picture is a stock photo and is likely not a picture of the exact stamp set you will receive in that it may differ in plate number and/or orientation. However the item you will receive will be similar including having a plate number (if one is present in the photos) and the same number of stamps. Stamps titled as MNH, OG will have no significant creases or unnatural gum disturbances unless otherwise noted.