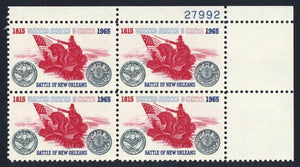 1965 Battle Of New Orleans Plate Block Of 4 5c Postage Stamps - MNH, OG - Sc# 1261`- CX268
1965 Battle Of New Orleans Plate Block Of 4 5c Postage Stamps - MNH, OG - Sc# 1261`- CX268
The Battle of New Orleans was the last military engagement of the War of 1812, fought between the United States and Great Britain. It has been called "the needless battle," as a peace treaty had been signed at Ghent, Belgium, 15 days earlier. The British sent 8,000 troops to capture New Orleans. British commanders chose a poor route for attack, and U.S. artillery and riflemen inflicted a heavy toll. About 1,500 British soldiers were killed - including the commanding officer, General Sir Edward Pakenham. Few American lives were lost. General Andrew Jackson commanded the U.S. troops, who were aided by Jean Lafitte, the leader of a band of pirates based near the city.
These are real USPS postage stamps that are accepted by the USA Postal Service as payment for mail posted in the USA however the total rates on the stamps posted must equal or exceed the current appropriate postal mailing rate or extra postage must be paid.
The stamp set shown in the picture is a stock photo and is likely not a picture of the exact stamp set you will receive and it may differ in plate number and/or orientation. However the item you will receive will be similar including having a plate number (if one is present in the photos) and the same number of stamps. Stamps titled as MNH, OG will have no significant creases or unnatural gum disturbances unless otherwise noted.