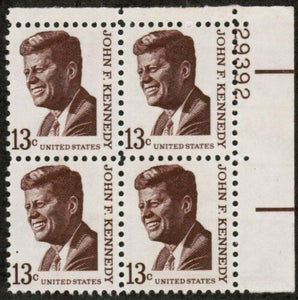 1965-78 - John F Kennedy Plate Block Of 4 13c Postage Stamps - Sc# 1287 - MNH, OG - CX486
1965-78 - John F Kennedy Plate Block Of 4 13c Postage Stamps - Sc# 1287 - MNH, OG - CX486
This is a block of 4 stamps as pictured.* * * On May 29, 1967 in Brookline, MA; the USPS celebrated the 50 anniversary of the birth of John Fitzgerald "Jack" Kennedy, often referred to by his initials JFK, the 35th President of the United States, serving from 1961 until his assassination in 1963. After Kennedy's military service as commander of the Motor Torpedo Boat PT-109 during World War II in the South Pacific, his aspirations turned political. With the encouragement and grooming of his father, Joseph P. Kennedy, Sr., Kennedy represented Massachusetts's 11th congressional district in the U.S. House of Representatives, as a Democrat, and also served in the U.S. Senate. Kennedy defeated then Vice President and Republican candidate Richard Nixon in the 1960 U.S. presidential election, one of the closest in American history. He was the second-youngest President elected to the office, at the age of 43. Kennedy is the only president to have won a Pulitzer Prize. Events during his administration include the Bay of Pigs Invasion, the Cuban Missile Crisis, the building of the Berlin Wall, the Space Race, the African American Civil Rights Movement and early stages of the Vietnam War. Kennedy was born on May 29, 1917 and was assassinated on November 22, 1963, at the age of 46.
These are real USPS postage stamps that are accepted by the USA Postal Service as payment for mail posted in the USA however the total rates on the stamps posted must equal or exceed the current appropriate postal mailing rate or extra postage must be paid.
The stamp set shown in the picture is a stock photo and is likely not a picture of the exact stamp set you will receive and it may differ in plate number and/or orientation. However the item you will receive will be similar including having a plate number (if one is present in the photos) and the same number of stamps. Stamps titled as MNH, OG will have no significant creases or unnatural gum disturbances unless otherwise noted.