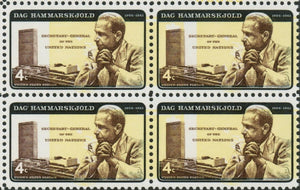 1962 Dag Hammarskjold Block of 4 4c Postage Stamps Yellow Invert - Sc 1204 - MNH -CX859
1962 Dag Hammarskjold Block of 4 4c Postage Stamps Yellow Invert - Sc 1204 - MNH -CX859
U.S. #1204 1962 4 Dag Hammarskjold Special Printing Issue Date: November 16, 1962 City: Washington, D.C. Quantity: 40,270,000 Printed By: Bureau of Engraving and Printing Printing Method: Giori Press Perforations: 11 Color: Black, brown and yellow U.S. #1204 was a "Special Issue," ordered by Postmaster General J. Edward Day in response to an error on U.S. #1203. After a color invert on the yellow background was found on the 1962 Dag Hammarskjold stamp, Day ordered a reprinting of the stamp - with the error. A printing of 40 million stamps was made so that the error would not be regarded as a valuable rarity. The special printing was called "Day's Folly."
These are real USPS postage stamps that are accepted by the USA Postal Service as payment for mail posted in the USA however the total rates on the stamps posted must equal or exceed the current appropriate postal mailing rate or extra postage must be paid.
The stamp set shown in the picture is a stock photo and is likely not a picture of the exact stamp set you will receive and it may differ in plate number and/or orientation. However the item you will receive will be similar including having a plate number (if one is present in the photos) and the same number of stamps. Stamps titled as MNH, OG will have no significant creases or unnatural gum disturbances unless otherwise noted.